CLASS Notes, June 13, 2017
It seems like you can't step out your office door these days without running into a campus construction project. While there may be extra dust in the air, or we might have to take a different path across campus, it all means progress. Our campus is moving forward. To stay up to date with everything happening on campus, you can visit the new updates page on the division of infrastructure website.
While jackhammers are re-envisioning our campus, our student services staff are busy calling prospective students and converting them to Vandals! All summer long, students and parents engage with our dedicated staff and faculty. This one-to-one connection is the deciding factor and why students choose to attend the U of I. I hope you all know how grateful I am for your dedication — even over the summer months.
After this edition of CLASS Notes, we'll go to one edition in July and one in August before we get back on track with our 2nd and 4th Tuesday editions in September.
Go Vandals!
- Andy
Announcements
Theatre and Music Awarded ORED Funding
Congratulations to the Lionel Hampton School of Music and the Department of Theatre Arts who both received Equipment and Infrastructure Support Awards from the Office of Research and Economic Development. ORED selected ten proposals for 2017, totaling $172,222. Awards range from $8,000 to $45,000. Funding for Theatre will support repair, replacement and purchase of equipment for the Hartung Theatre, such as LED lights. Funding in Music will rebuild a piano, and purchase or repair UI-owned instruments. Read more about this internal funding opportunity.
Employment news
Benjamin James has moved from the Theatre department to the English department and will officially start as Clinical Assistant Professor in August.
Scheduled Website Outage
ITS is performing Web server maintenance Tuesday night at 6:30 p.m. Duration of the outage may be 20 minutes to two hours. Please note the outage will affect www.uidaho.edu. The website will be inaccessible during this period.
2017 Common Read
The University of Idaho has chosen Mistakes Were Made (but Not by Me): Why We Justify Foolish Beliefs, Bad Decisions, and Hurtful Acts by social psychologists Carol Tavris and Elliot Aronson as its Common Read for 2017-2018. "The students and faculty members on our Common Read committee loved the premise of this book and its lessons about our individual and collective behavior," said Kenton Bird, UI's director of General Education, which sponsors the Common Read. Tavris will deliver a keynote address, part of the Runstad Lecture series, at 7 p.m. Monday, Oct. 23, in the International Ballroom of the Bruce Pitman Center. Read more about the Common Read.
History Professor Rick Spence Releases Fifth Book
History Professor Richard "Rick" Spence's fifth book, "Wall Street and the Russian Revolution: 1905-1925" has been released by publisher TrineDay. Spence's book delves into not just the events of the revolution, but the economic, ideological and personal motivations of the people involved. Readers will gain insight and a deeper understanding into the events that took place in Russia and America from 1905-1925 and how those events still influence the relations between the two countries today. Spence has worked at the University of Idaho since 1986, earning his current appointment as full professor of history in 1999 in the College of Letters, Arts and Social Sciences. He specializes in Russian intelligence and military history, and his course offerings include Modern Espionage, Anti-Semitism and the Holocaust, History of Secret Societies and the Occult in History. "Wall Street and the Russian Revolution" is currently available at trineday.com.
Scott Slovic Named Faculty Fellow for Cross-Disciplinary Collaborations
Scott Slovic, chair of the English department, has been named one of the five Faculty and Staff Fellows by by the UI Office of Research and Economic Development. Scott will serve as a coordinator of interdisciplinary faculty collaborations, with a special emphasis in the arts, humanities and social sciences. In this role, he will help identify faculty members whose work seems to intersect in interesting ways and who may possibly develop collaborative projects in the future. Watch for an announcement this fall for a series of informal "Coffee Conversations" hosted by ORED to help catalyze these collegial connections.
The goal of the ORED Fellows Program is for the fellows to pursue special initiatives and assist ORED in strategic planning across the research enterprise. Their engagement is designed to build new partnerships and expand capabilities in research, scholarship and creative activity. The fellows will collaborate closely with the ORED team, and at the same time serve as envoys to help to communicate ORED's mission, goals and programs to the broad university community. The fellows also have an opportunity to explore administrative roles and build leadership capacity.
Wegars Receives Statewide Award
Priscialla Wegars, affiliate assistant professor in the Department of Sociology and Anthropology and volunteer curator of the Asian American Comparative Collection, has been named one of 12 recipients of this year's Idaho State Historical Society's Esto Perpetua Award. The honor, which means "let it be perpetual", recognizes people and organizations who have preserved and promoted Idaho's history through professional accomplishments, public service or volunteerism, and philanthropy. Wegars founded the Asian American Comparative Collection 35 years ago. The collection is a unique resource in the Alfred W. Bowers Laboratory of Anthropology, which contains artifacts, slides and documentary materials essential for understanding Asian American archaeological sites, economic contributions and cultural history. She has conducted extensive research into the history of the Chinese and Japanese in the Northwest, has directed several archaeological survey and excavation projects of Chinese sites in Oregon and Idaho, and has led numerous classes and tour groups to Chinese historic sites in the West. Wegars is the author of "Polly Bemis: A Chinese American Pioneer" (2003; Honorable Mention for Idaho Book of the Year); "Imprisoned in Paradise: Japanese Internee Road Workers at the World War II Kooskia Internment Camp" (2010); and "As Rugged as the Terrain: CCC "Boys," Federal Convicts and World War II Alien Internees Wrestle with a Mountain Wilderness" (2013; Co-Winner for Idaho Book of the Year). Learn more about the AACC.
Charles Tibbals Named 2017 Friend of Martin Award Recipient
Charles Tibbals, associate director of student services for the College of Letters, Arts and Social Sciences, is the recipient of the university's 2017 Friend of Martin Award. This honor recognizes a UI staff or faculty member who has distinguished themselves via the depth and quality of their service to the students, staff and faculty of the Martin Institute and Program in International Studies. Read more about Charles Tibbals' award.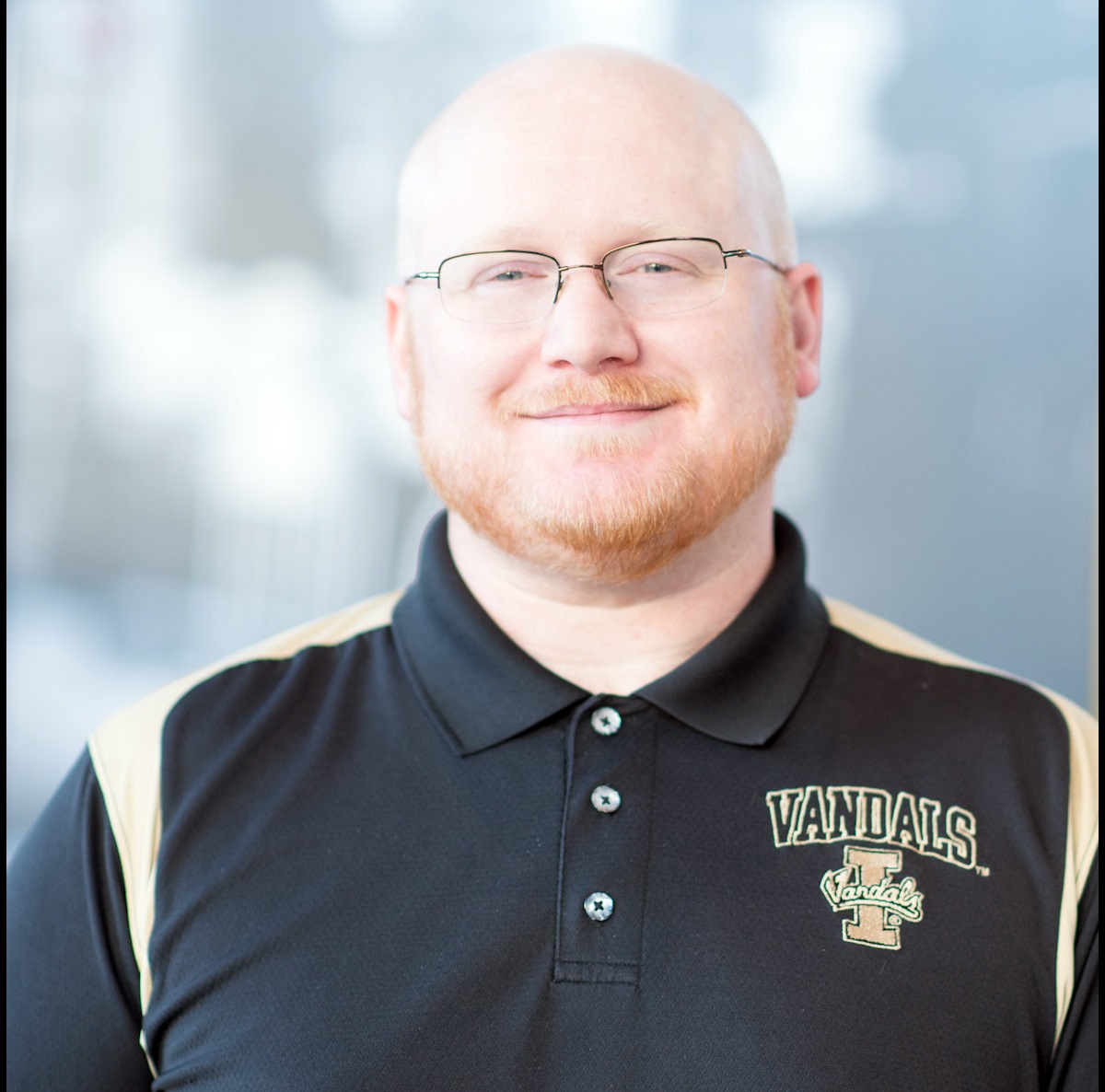 Borah Symposium moves to Fall, Nobel Laureate Headlines
Nobel Peace Laureate Shirin Ebadi has been selected as the keynote speaker at the 70th Annual Borah Symposium, Monday, Oct. 16, 2017 at 7:00 p.m. in the International Ballroom of the Pitman Center. Ebadi – a judge in her native Iran – received the award in 2003. The Nobel committee noted "The lawyer Shirin Ebadi was Iran's first female judge. After Khomeini's revolution in 1979 she was dismissed. Ebadi opened a legal practice and began defending people who were being persecuted by the authorities. In the year 2000 she was imprisoned herself for having criticized her country's hierocracy. Shirin Ebadi took up the struggle for fundamental human rights and especially the rights of women and children. She took part in the establishment of organizations that placed these issues on the agenda, and wrote books proposing amendments to Iran's succession and divorce laws. She also wanted to withdraw political power from the clergy and advocated the separation of religion and state."
Ebadi will be speaking on "The Role of Women in World Peace." She will be the sixth Nobel Peace Laureate to speak at the symposium following Oscar Arias (2011), F.W. de Klerk (2008), Jody Williams (2005), Lech Walesa (2003), and Betty Williams (1992).
The symposium will take place from Oct. 16-18, including other speakers to be announced later.
Want a CLASS sticker for your department's social media profile?
This fall, the CLASS Student Services team created "I" stickers that have been in high demand from prospective students. Now's your chance to use them on your unit's social media pages. The CLASS Marketing & Communications team has them already sized for your department's social media. There are 15 different options for you including – "I" create, decide, dig, discover, explore, help, lead, play, read, reason, remember, serve, sing, travel and write. Contact Kathy Foss – kfoss@uidaho.edu or 208-885-6474 – to get your image today!
Looking for Students…
The CLASS marketing and communications team is continuing to build a list of students to promote and highlight this summer and in the upcoming year – by both our college and the university. Please forward to Kathy Foss (kfoss@uidaho.edu) names of students who:
Transferred to UI and are succeeding here
Sophomores from Idaho who are finding a place at UI
Have summer internships, jobs or are doing research
Students who may have a relatable story to prospective students (does NOT need to be the highest achiever)
CLASS in the News
A sampling of the latest stories featuring our CLASS faculty, staff and students:
A look into the life of BYU's assistant lighting designer (Marianne Ohran [theatre student], The Digital Universe, June 12)
Crews to break ground at the James Castle homesite next week (Department of Sociology & Anthropology, Idaho Statesman, June 9)
U of I offers revitalized music camp (Lionel Hampton School of Music, News Bonners Ferry, June 2)
Winners of Idaho history awards named (Priscilla Wegars, The Lewiston Tribune, June 1)
Priscilla Wegars receives award for work with Asian-American Comparative Collection (Priscilla Wegars, The Spokesman Review, May 31)
Sidewalk Series: Quenching a thirst for truth (Priscilla Wegars, Moscow-Pullman Daily News, May 30)
What My Music Teacher Taught Me About Money (Dan Bukvich, Money, May 30)
Dates and Events
Next Deadline for IRIC Applications is June 29
The Integrated Research and Innovation Center (IRIC) Facility Committee continues to consider applications for space in the IRIC building. UI faculty and staff can access application forms online. The deadline for the next round of consideration is Thursday, June 29. Read more.
Summer Schedule for CLASS Notes
The CLASS Notes newsletter will be sent on an abbreviated schedule this summer. Watch for CLASS Notes on the following days:
June 13
July 6
August 15
Fall schedule resumes on September 12. The newsletter will then appear on the second and fourth Tuesday of each month.
Academic Dates and Deadlines
UIdaho Bound - June 17
UIdaho Bound - July 10