CLASS Notes, May 23, 2017
The summer season on campus is a curious one. Almost by magic, at 3 p.m. on Saturday after commencement, the campus quiets, and we quickly transition to what I call the "punch list" of summer. I suspect that everyone's punch list is a bit different. Some are beginning or finishing research, some are writing, and others are working to tackle the myriad of tasks and projects left undone during the academic school year. It is also the moment I begin the good, slow fun of working through my long list of books. I suggest mine to others: Neil Gaiman's Neverwhere; Shion Miura's The Great Passage; and Michael Crow's Designing the New American University. The last one might be worth your time, as President Staben keeps mentioning and recommending it to everyone. I invite you to share your reading list with me and others.
Here's to summer and getting "ahead"!
- Andy
Announcements
STAR Award presented to the Lionel Hampton Jazz Festival
Every quarter the Moscow Chamber of Commerce awards the STAR Award to a group that brings tourism to the Palouse. This quarter's Supporting Tourism and Recreation (STAR) Award goes to the Lionel Hampton Jazz Festival. Aaron Mayhugh is the Jazz Festival manager and will be accepting the award for hosting the 50th anniversary of the Lionel Hampton Jazz Festival in Moscow. Read more about the Jazz Festival winning the STAR Award.
UI Facilities Launches Construction News Webpage
With the closure of an academic year comes the flurry of work crews and vehicles, construction and projects around campus and in the Moscow community surrounding UI. This summer will be no different for Vandal employees and UI visitors. To keep the entire Vandal community up to date about key construction-related projects happening, a UI Construction News information page has been created at uidaho.edu/infrastructure/updates. Read about the construction news webpage.
ITS Launches into Training in Preparation for Future Service Model
In preparation for the transition to a new service model and structure coming later this summer, Information Technology Services (ITS) staff will be involved in intensive training. The technical learning activities are occurring during their regular workday to build their skills and prepare for their future roles in serving the university community in a transformative way. Read more about the new ITS service model.
Want a CLASS sticker for your department's social media profile?
This fall, the CLASS Student Services team created "I" stickers that have been in high demand from prospective students. Now's your chance to use them on your unit's social media pages. The CLASS Marketing & Communications team has them already sized for your department's social media – Facebook, Instagram, Twitter and LinkedIn. There are 15 different options for you including – "I" create, decide, dig, discover, explore, help, lead, play, read, reason, remember, serve, sing, travel and write. Contact Kathy Foss – kfoss@uidaho.edu or 208-885-6474 – to get your image today!
Viewbook
The 2017 CLASS Research and Creative Works Viewbook has been mailed to CLASS faculty and staff. You can also see the viewbook online.
World Premiere of Caisley Play
Congratulations to professor Rob Caisley and the world premiere of his new play "& JULIET" at New Jersey Repertory Company, which opened May 4. Petty jealousies and professional rivalries in a conservative college theatre department. Throw in some Elizabethan weapons and a sense of entitlement — what could go wrong!
Dean Panttaja Honored By American University in Cairo
Professor Dean Panttaja is being honored with the "Thoron Distinguished Visiting Professor in the Performing and Visual Arts at American University in Cairo" where he spent the spring semester teaching stagecraft and design courses and designing their large spring production (scenery and lights) for "Spring Awakening" by Frank Wederkind. The American University in Cairo is considered the "Yale" of Egypt. The students are fluent in at least two if not three languages. "It has been an immense opportunity to work with these youth and shape them as the next front of Egyptian Theatre, and dare I say it, global citizens," Dean said. "In design, my role is to show them that their imaginations are endless and that theatre represents us all and to go fearlessly into the future."
Jesse Dreikossen Theater Designs in California & West Virginia
Assistant professor Jesse Dreikosen is designing Rob Caisley's play "A Masterpiece of Comic Timing," opening May 12 at the 6th Street Playhouse in Santa Rosa, California. In addition, Jesse is designing two world premiere productions at The Contemporary American Theater Festival in West Virginia this summer, for "Wild Horses" by Allison Gregory (directed by Courtney Sale) and "Niceties" by Eleanor Burgess (directed by Kimberly Senior). CATF is a summer theater festival, premiering new American plays with a lecture series and more.
Summer Drama Camp in July
UI Theatre Arts will hold a summer drama camp for youth, ages 6 to 16 in July on the UI campus. Participants will learn about acting, build props, and construct sets and costumes. Campers work collaboratively, think creatively, increase self-confidence and build their language arts and performance skills. Camp culminates in all participants performing in a Shakespeare play on Saturday, July 29.
Ages 6-16
Noon to 5 p.m.
Monday - Friday
July 10-28 (performance on July 29)
$190 by June 15
$230 after June 15
Oregon Shakespeare Festival Rabold Fellowship Announced
Congratulations to Dan Poppen, MFA candidate in Theatre Arts, who has been named the Rex Rabold Fellow for 2018. This Fellowship is an exclusive connection between the UI Department of Theatre Arts and the Oregon Shakespeare Festival. Each year, one UI graduate is selected by audition to perform with the prestigious theatre company. The fellowship recipient receives an acting stipend and housing for one year, and many are invited to return to the company for two or three years following their award. Dan's recent performances include the title role of "Titus Andronicus," the Argonaut, Orpheus, in "Medea: Her Story," and an ensemble member of "Sleepy-A Musical."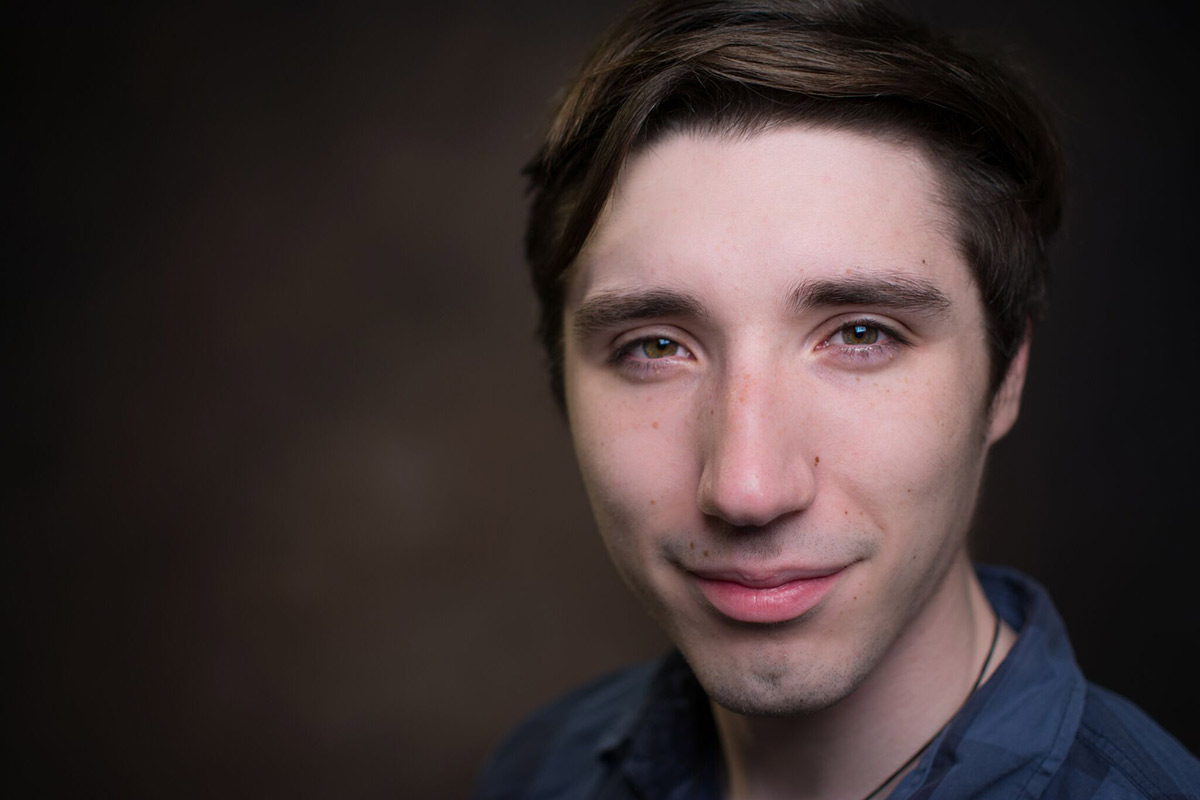 What are you and your students doing this summer?
Are you or any of your students doing something unique or interesting this summer – an internship, summer employment, research, etc.? LET THE CLASS MARCOM TEAM KNOW! We are looking for social content and story ideas for the summer months and would love you highlight people in your department. In addition, we are working with central UCM and will be pitching stories to local papers to draw some local media coverage. Send ideas to Kathy Foss, marketing and communications manager, at kfoss@uidaho.edu.
CLASS in the News
A sampling of the latest stories featuring our CLASS faculty, staff and students:
Art is: Many different reasons for why we 'art' (Mark Warner, The Albert Lea Tribune, May 20)
Biz Brief: Tourism award presented to UI Lionel Hampton Jazz Festival (Jazz Festival, Moscow-Pullman Daily News, May 19)
Brief: Drama camp scheduled for July (Theatre Arts, Moscow-Pullman Daily News, May 17)
Graduates urged to learn life lessons without fear (Norma Valdivia [student, IS, Spanish], Mary Estrada [student, Soc, Spanish], Moscow-Pullman Daily News, May 14)
After life of traveling, grad finds home in Moscow (Jonathan Moon [student, Anthro], Moscow-Pullman Daily News, May 12)
A Vandal and a volunteer (Anna Dolezal [student, IS], Lewiston Tribune, May 11)
'Swingo de Mayo' (Vern Sielert, Columbia Basin Herald, May 9)
Dates and Events
Annual CLASS Writing Retreat
The CLASS writing retreat is an opportunity to get writing done away from the space of your office and to meet colleagues in the college. It is informal, meaning that you can come and go as you please. You are welcome to spend a few hours at the retreat, or the whole week there.
We plan on offering a free light breakfast and lunch for two days, courtesy of the CLASS Dean's Office. Please RSVP Stacey L. Camp even if you only plan to attend for a few hours, to coordinate the food on the days the majority of people are in attendance.
When: Monday, May 22nd through Friday, May 26th from 9 a.m. to 4 p.m.
Location: room 321, IRIC building.
Next Deadline for IRIC Applications is June 29
The Integrated Research and Innovation Center (IRIC) Facility Committee continues to consider applications for space in the IRIC building. UI faculty and staff can access application forms online. The deadline for the next round of consideration is Thursday, June 29. Read more.
Summer Schedule for CLASS Notes
The CLASS Notes newsletter will be sent on an abbreviated schedule this summer. Watch for CLASS Notes on the following days:
June 13
July 6
August 15
Fall schedule resumes on September 12. The newsletter will then appear on the second and fourth Tuesday of each month.
Academic Dates and Deadlines
UIdaho Bound - June 17
UIdaho Bound - July 10