CLASS Notes, April 11, 2017
April is a time of celebration and excitement on campus — prospective students are visiting, classes are in their final push of the semester and recognitions are being bestowed.
The university recently hosted two UIdaho Bound events, and the feedback has been terrific! Parents and students told me that they were welcomed so warmly, they instantly felt like part of the Vandal family. As we know, enrollment growth is vital to our college and to the university. The connections made during these face-to-face events has been shown to "seal the deal" with students and their families. My thanks goes to all the CLASS staff, faculty and students who made both days successful.
On the other end of our student experience, we will once again send off another group of graduating seniors in just five short weeks. This is one of my favorite times of the year as we celebrate our new alumni and watch them continue their educational and professional journeys. As always, I hope you will attend Commencement to celebrate with your students and colleagues. If you need regalia, my office has several sets that we allow our faculty to use. Please contact Jean Planagan in my office for assistance, if interested.
It is also award and recognition season at UI. We began announcing award recipients in last month's newsletters, and you'll find more listed in this one as well. CLASS faculty and staff are doing some amazing work! My thanks and congratulations you all. I hope you attend the University Awards for Excellence and Staff Awards Luncheon later this month to celebrate with your colleagues.
Finally, please join your colleagues and me at the CLASS/ORED research showcase and reception to celebrate our new joint venture — the Transformation Research Investment & Partnership (TRIP) — on Wednesday, April 19 in the IRIC Auditorium from 4:30-6:30 p.m. This new partnership with ORED will enhance and accelerate our work and the reach of our research activity. Read more information about the presentations below.
Go Vandals!
— Andy
Announcements
Honorary Degree Nominations
Honorary degree nominations for December 2017 commencement are due April 15, 2017. See details on honorary degree nominations.
Commencement Regalia Available at the CLASS Dean's Office
For those CLASS faculty members wishing to borrow (at no cost) regalia for the spring commencement ceremony, please contact Jean Planagan at 885-0714 or jeanp@uidaho.edu to reserve your size. A limited supply of robes, hoods and caps is available.
Jennings Receives Goethe Scholarship
Karen Jennings, Lecturer of German in MLC, has received a full scholarship from the Goethe-Institut to participate in a two-week professional development seminar on German culture in Leipzig and Munich, Germany, July 30 to Aug. 12, 2017.
Prof. Dean Panttaja in Cairo
Dean Panttaja (Theatre Arts, Professor of Design & Technology) recently finished designing the large spring production (scenery and lights) for "Spring Awakening" by Frank Wederkind at the American University in Cairo, where he is a visiting professor. He is also teaching a Stagecraft and Design course.
Golden Vandals Tour Hartung
Michael Brandt, Christina Holaday and Keely Wright-Ogren, MFA candidates in Theatre Arts, led about two dozen Vandal Alumni on an in-depth tour of the Hartung Theater on April 6 and gave a sneak peek of what goes into building shows like "Wendy & Peter: Into Neverland." The Golden Vandals were shown parts of the Hartung that the audience never sees and learned more about the Theatre Arts program.
Wendy & Peter: Into Neverland Opens April 20
You've heard of Peter Pan and know his story well, with Tinkerbell, Captain Hook and hungry crocodiles. Now discover Wendy's story in this new adaptation of the classic novel by J.M. Barrie. Presented by UI Theatre Arts, "Wendy & Peter: Into Neverland" runs from April 20-30 at the Hartung Theater. Tickets on sale now, and free for UI students. Call Theatre Arts at 208-885-6465 to reserve your seats.
TRIP Partnership & Research Exposition – April 19
Join the College of Letters, Arts and Social Sciences and the Office of Research and Economic Development for a research showcase and reception celebrating their new venture — Transformative Research Investment & Partnership (TRIP). The research exposition will be held Wednesday, April 19 from 4:30-6:30 p.m. in the IRIC Auditorium and will feature presentations by six CLASS faculty receiving funds through TRIP — Miranda Wilson, Stacey Camp, Leontina Hormel, Kenton Bird, Leonard Garrison and Pingchao Zhu — as well as presentations by 2017 CLASS Research Fellowship recipients, Dale Graden and Mark Warner. Opening remarks by Vice President for Research and Economic Development Janet Nelson and CLASS Dean Andrew Kersten at 4:30 p.m. Hors d'oeuvres and no-host beverages served. RSVP by April 14 to Jean Planagan at jeanp@uidaho.edu.
Promotion and Tenure Announced
Congratulations to Leonard Garrison (Music) and Carol Padgham-Albrecht (Music), who were promoted to the rank of professor beginning in FY18! Juliet Carlisle (Politics & Philosophy), Lori Celaya (Modern Languages & Cultures), Joseph De Angelis (Sociology & Anthropology), Roger McVey (Music) and Russell Meeuf (Journalism & Mass Media) were all promoted to associate professor with tenure. Kudos to all of you!
University Awards for Excellence
Join the UI community and your CLASS colleagues at the University Awards for Excellence (6 p.m. on April 25 at the Pitman Center), where the following CLASS faculty and staff will be honored:
Kim Barnes, English - University Distinguished Professor Rank
Alexandra Teague, English - Donald Crawford Graduate Faculty Mentoring Award
Kacy Pula, Psychology & Communication Studies - Faculty Excellence in Advising Award
Kristi Overfelt, CLASS Student Services – Staff Excellence in Advising Award
Kristin Haltinner, Sociology & Anthropology – The Hoffman Award in Teaching Excellence
Erin James, English – Excellence in Teaching Award
Ellen Kittell, History – Excellence in Teaching Award
Ryanne Pilgeram, Sociology & Anthropology – Dr. Arthur Maxwell Taylor Excellence in Diversity Award
Jodi Nicotra, English – Mid-Career Award
Mark Secrist, Journalism & Mass Media – Faculty Emeritus
Gerd Steckel, Modern Languages & Cultures – Faculty Emeritus
Congratulations to all our CLASSy honorees! RVSP for the event online.
Two CLASS Employees Named Outstanding Staff
Congratulations to Dusty Fleener (Confucius Institute) and Sean McIlraith (CLASS Dean's Suite) for being named 2017 Outstanding Staff award recipients in the Secretarial/Clerical category. Sean and Dusty will be honored at the 2017 Staff Awards Luncheon at 11:30 a.m. on April 26 in the Pitman Center. RSVP by April 14.
Welcome Jill Donnelly, CDA Advising and Recruitment Specialist
Jill Donnelly is the new Advising and Recruitment Specialist for the College of Letters, Arts and Social Sciences at the Harbor Center in Coeur d' Alene, Idaho. Jill graduated from the University of Idaho with a degree in Child, Family and Consumer Studies and is thrilled to be working for her alma mater. Jill is passionate about education and has spent most of her career as an educator and family advocate. A native of Oregon, Jill loves running, yoga and spending time on the beautiful North Idaho lakes with her family. Jill is married to a fellow Vandal and looks forward to her children attending the university in the near future.
Vaught Wins Sea Service Leadership Association
Midshipman First Class Diana Vaught, a University of Idaho Senior studying biology, won the Sea Service Leadership Association award for sustained superior leadership abilities, academic achievement and community involvement. Her achievements during her tenure at the unit earned her the award in a field of more than 70 other applicants from over 70 other universities nationwide. The award, including $100 for uniform items and a plaque, will be given during the NROTC unit's 2017 Spring Awards Banquet on Friday, 28 April.
Johnson Receives Beatrice Medicine Award
Jan Johnson, Clinical Assistant Professor in the Department of English, has been named the recipient of this year's Beatrice Medicine Award for Published Academic Essay for her article titled "'We Were All at Wounded Knee': The Engaged Resistance of Folk and Rock in the Red Power Era," which appeared in her 2016 co-edited book Indigenous Pop: Native American Music from Jazz to Hip Hop. The award was judged by editors for Studies in American Indian Literature and will be presented at the 2017 Native American Literature Symposium.
Advisors: Note availability of FLEN 243, English Word Origins
This "English Word Origins" class has not been offered recently, but is now available for fall 2017. This online course can help fulfill the four-semester B.A. foreign language requirement (e.g., GERM 101, 102, 201 + FLEN course). Students can build their academic and professional vocabulary through recognizing recurrent roots and patterns in the English lexicon. Students studying fields such as pre-law and pre-med may particularly benefit. Instructed by Kurt Queller.
Download the FLEN 243 flyer (PDF).
CLASS in the News
A sampling of the latest stories featuring our CLASS faculty, staff and students:
University of Idaho professor pens powerful book of poetry — April 7, 2017 (Michael McGriff, English)
Old Flick, New Licks — April 6, 2017 (Dylan Champagne, student, music)
U of I choral group to perform at Carnegie Hall — April 4, 2017 (Michael Murphy, music)
'The best opera in the region' — April 3, 2017 (Opera Workshop, music)
Concert pianist Jovanni-Rey de Pedro to perform guest recital April 6 at TJC — April 3, 2017 (Jovanni-Rey de Pedro, music)
New associate deans named in University of Idaho's CLASS — March 30, 2017 (Diane Kelly-Riley, English; Mark Warner, sociology & anthropology)
What is it about the water in Shoshone County? — March 30, 2017 (Kenton Bird, journalism & mass media)
Women Make an Impact at NROTC — March 27, 2017 (naval sciences)
Graceful, powerful, united — University of Idaho will host the 2017 Northwest Horn Symposium — March 27, 2017 (Jason Johnston, music)
Changing history with her story — "Medea: Her Story" wins national awards at KCACTF — March 27, 2017 (Kelly Quinnett, theatre; Jesse Dreikosen, theatre)
Events
Oppenheimer Media Ethics Symposium with John Branch
New York Times sports reporter John Branch will speak Thursday, April 20, at 7 p.m. in the Administration Auditorium. John Branch, a Pulitzer Prize-winning sports reporter, will be the keynote speaker for the seventh annual Oppenheimer Ethics Symposium. Branch was a member of the NYT's Olympics coverage team, and will talk about "Ethics and Sports Media," addressing such issues as press coverage of female and LGBT athletes, drug use in athletics, sports medicine and criminal behavior. Branch was awarded the 2013 Pulitzer Prize for Feature Writing for "his evocative narrative about skiers killed in an avalanche and the science that explains such disasters, a project enhanced by its deft integration of multimedia elements."
Phantom of the Opera, with Live Music Composed by Student Dylan Champagne
7 p.m. Thursday, April 13 at the Garland Theater Box office, 924 W. Garland Ave., Spokane, Washington. Tickets, $20 for general admission and $15 for students, are available online or at the Garland Theater Box office.
Composition recital at 7:30 p.m. Thursday, April 20, in the Haddock Performance Hall on the UI campus.
Music Composition student Dylan Champagne began writing the score to a silent movie on a whim, and now he and Lionel Hampton School of Music Professor Alan Gemberling are readying the project for its second performance. The musicians, which include members of the Palouse String Quartet, are performing the project as an experiential endeavor. Read full article on the Phantom of the Opera project.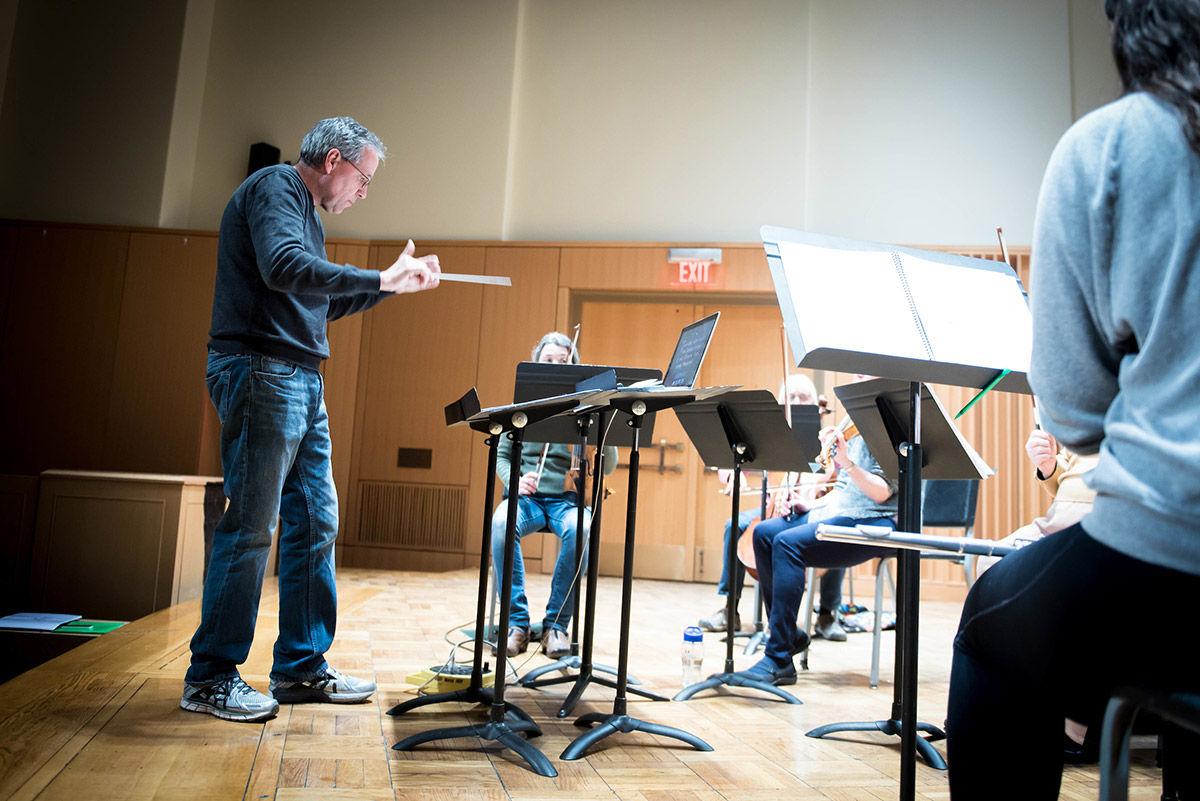 University Faculty Meeting
May 2, 2017, 3 p.m. Pacific time; 2 p.m. Mountain time.
Moscow: Vandal Ballroom, Bruce Pitman Center; Boise: IWC 448A; Coeur d'Alene: 213; Idaho Falls: 350A: Twin Falls - B-66.
CLASS All-College Spring Meeting: Save the Date!
3:30 – 4:30 p.m., Monday, May 1, Pitman Center – Borah Theatre. All CLASS faculty and staff are invited to attend the CLASS All-College Spring Meeting in May. President Staben will be in attendance at this meeting and will give a 30-minute presentation, including an opportunity for Q & A. Please mark your calendars!
Academic Dates and Deadlines
Fall registration - April 17-21
Dead week - May 1-5
Finals week - May 8-12
Commencement - May 13