Faculty/Staff News
Theater's Contribution to the Women's Movement
Jesse Dreikosen considers how color and space draw emotional reactions from the audience.
Why Police Accountability Matters
Joseph De Angelis studied police department oversight models, and produced a report for the Department of Justice to assist jurisdictions in implementing oversight.
Decreasing Traffic Fatalities through Psychology
Driving simulations led to a recommendation for decreasing speed — and fatalities — on a deadly Alaskan highway.
Mary DuPree
After 30 years leading the University of Idaho's Auditorium Chamber Music Series, Mary DuPree is ready to venture into something new — retirement. But retirement doesn't mean DuPree is going to step away from community outreach. Read more
Dan Bukvich
"He was teaching more than how to sing the correct bass part to the Beach Boys...he taught something bigger." Check out CLASS alum Chris Korneli's (2005, JAMM) article in MONEY featuring University of Idaho music professor Dan Bukvich. Read more
Dusty Fleener & Sean McIlraith. Monica Pine & Charles Tibbals
Sean McIlraith (Dean's Suite) and Dusty Fleener (University of Idaho Confucius Institute) were selected as 2017 UI Outstanding Staff. In addition, we recognized Monica Pine (UI Department of Theatre Arts) for her 10 years of service at UI and Charles Tibbals (CLASS Student Services) for his 15 years of service. Read more
Dilshani Sarathchandra
Parents influence their children in many ways — from DNA that influences physical traits to parenting techniques that influence emotional and social development. And now, new research from the University of Idaho shows that parental actions can also influence a child's interest in science. Read more
Criminology Trip To London
In March 2017, a group of 24 criminology students from the University of Idaho and Washington State University traveled to London to learn more about the British criminal justice system and its relation to the structure in the United States. Read more
Scott Slovic Named Faculty Fellow for Cross-Disciplinary Collaborations
Scott Slovic, chair of the English department, has been named one of the five Faculty and Staff Fellows by by the UI Office of Research and Economic Development. Scott will serve as a coordinator of interdisciplinary faculty collaborations, with a special emphasis in the arts, humanities and social sciences. In this role, he will help identify faculty members whose work seems to intersect in interesting ways and who may possibly develop collaborative projects in the future. Watch for an announcement this fall for a series of informal "Coffee Conversations" hosted by ORED to help catalyze these collegial connections.
The goal of the ORED Fellows Program is for the fellows to pursue special initiatives and assist ORED in strategic planning across the research enterprise. Their engagement is designed to build new partnerships and expand capabilities in research, scholarship and creative activity. The fellows will collaborate closely with the ORED team, and at the same time serve as envoys to help to communicate ORED's mission, goals and programs to the broad university community. The fellows also have an opportunity to explore administrative roles and build leadership capacity.
History Professor Rick Spence Releases Fifth Book
History Professor Richard "Rick" Spence's fifth book, "Wall Street and the Russian Revolution: 1905-1925" has been released by publisher TrineDay. Spence's book delves into not just the events of the revolution, but the economic, ideological and personal motivations of the people involved. Readers will gain insight and a deeper understanding into the events that took place in Russia and America from 1905-1925 and how those events still influence the relations between the two countries today. Spence has worked at the University of Idaho since 1986, earning his current appointment as full professor of history in 1999 in the College of Letters, Arts and Social Sciences. He specializes in Russian intelligence and military history, and his course offerings include Modern Espionage, Anti-Semitism and the Holocaust, History of Secret Societies and the Occult in History. "Wall Street and the Russian Revolution" is currently available at trineday.com.
Charles Tibbals Named 2017 Friend of Martin Award Recipient
Charles Tibbals, associate director of student services for the College of Letters, Arts and Social Sciences, is the recipient of the university's 2017 Friend of Martin Award. This honor recognizes a UI staff or faculty member who has distinguished themselves via the depth and quality of their service to the students, staff and faculty of the Martin Institute and Program in International Studies. Read more about Charles Tibbals' award.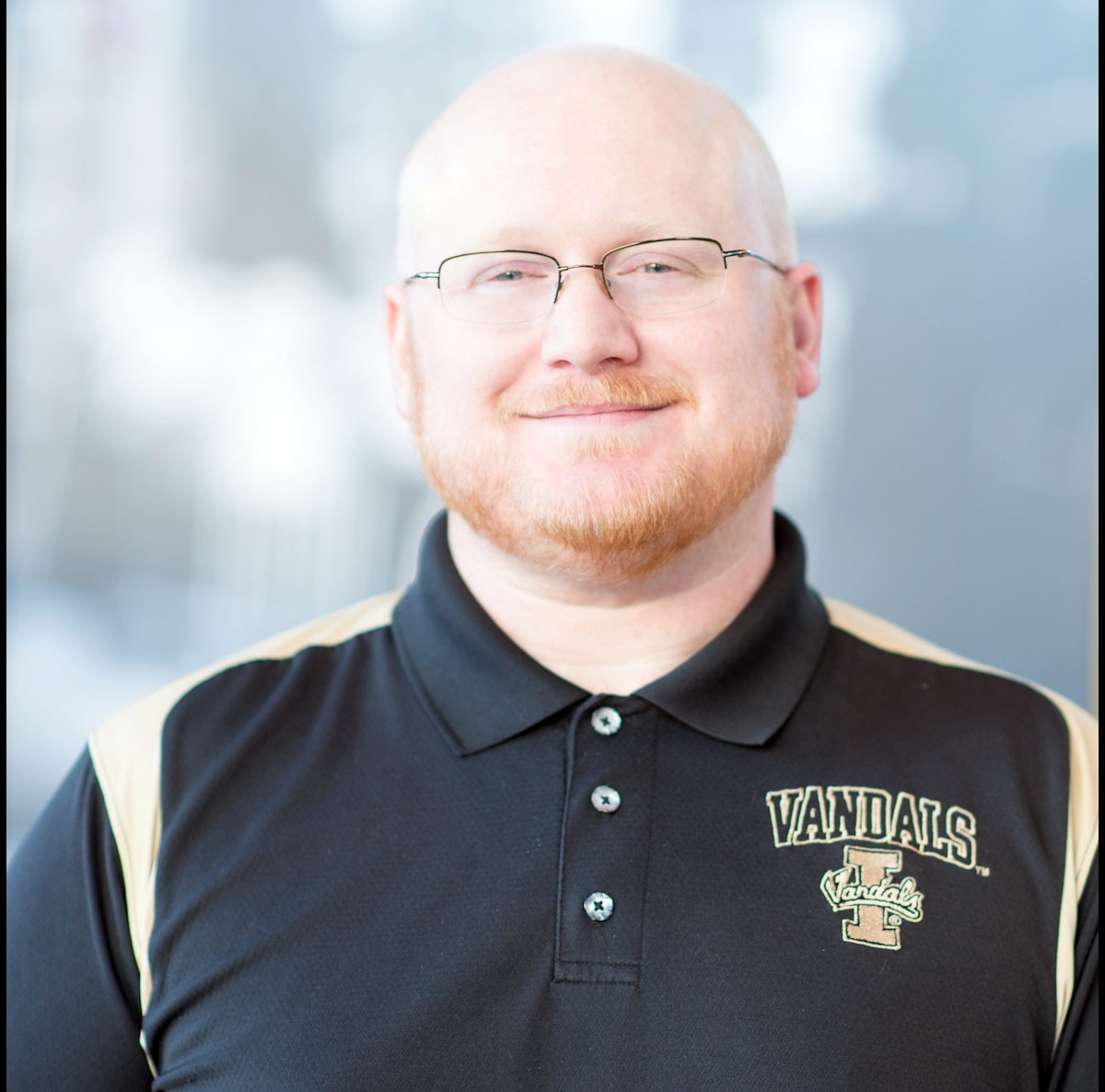 Wegars Receives Statewide Award
Priscialla Wegars, affiliate assistant professor in the Department of Sociology and Anthropology and volunteer curator of the Asian American Comparative Collection, has been named one of 12 recipients of this year's Idaho State Historical Society's Esto Perpetua Award. The honor, which means "let it be perpetual", recognizes people and organizations who have preserved and promoted Idaho's history through professional accomplishments, public service or volunteerism, and philanthropy. Wegars founded the Asian American Comparative Collection 35 years ago. The collection is a unique resource in the Alfred W. Bowers Laboratory of Anthropology, which contains artifacts, slides and documentary materials essential for understanding Asian American archaeological sites, economic contributions and cultural history. She has conducted extensive research into the history of the Chinese and Japanese in the Northwest, has directed several archaeological survey and excavation projects of Chinese sites in Oregon and Idaho, and has led numerous classes and tour groups to Chinese historic sites in the West. Wegars is the author of "Polly Bemis: A Chinese American Pioneer" (2003; Honorable Mention for Idaho Book of the Year); "Imprisoned in Paradise: Japanese Internee Road Workers at the World War II Kooskia Internment Camp" (2010); and "As Rugged as the Terrain: CCC "Boys," Federal Convicts and World War II Alien Internees Wrestle with a Mountain Wilderness" (2013; Co-Winner for Idaho Book of the Year). Learn more about the AACC.
Dean Panttaja Honored By American University in Cairo
Professor Dean Panttaja is being honored with the "Thoron Distinguished Visiting Professor in the Performing and Visual Arts at American University in Cairo" where he spent the spring semester teaching stagecraft and design courses and designing their large spring production (scenery and lights) for "Spring Awakening" by Frank Wederkind. The American University in Cairo is considered the "Yale" of Egypt. The students are fluent in at least two if not three languages. "It has been an immense opportunity to work with these youth and shape them as the next front of Egyptian Theatre, and dare I say it, global citizens," Dean said. "In design, my role is to show them that their imaginations are endless and that theatre represents us all and to go fearlessly into the future."