UI Alumna Promotes Positive Body Image
CLASS graduate stands in bikini in Boise farmers market to spread her message that 'all bodies are good bodies'
Amy Pence-Brown woke up the morning of Aug. 29, 2015, after a rough night's sleep. She didn't know what the day might bring, and the nerves made her physically ill. By the end of the day, she could be in jail. She could be harassed, hated on, attacked. She could be dismissed as just another crazy person on a street corner.
But at the end of the day on Aug. 29, the Boise resident and mother of three instead felt overwhelmed with love.
That Saturday was the day that Pence-Brown, 40, a University of Idaho alumna, stood in the middle of the Capital City Public Market in downtown Boise in nothing but a black bikini and a blindfold, asking people to draw a heart on her exposed body in support of body positivity.
She carried two markers and a sign, which read: "I'm standing for anyone who has struggled with a self-esteem issue like me, because all bodies are valuable. To support self-acceptance, draw a heart on my body."
It was a stand that has resonated worldwide. A variety of media outlets picked up Pence-Brown's story, and emails have poured in from people thanking her for being brave enough to expose her thighs, belly, stretch marks and cellulite, and tell the world that it's OK.
"I couldn't be prouder of this project and its continued reach," Pence-Brown said. "Every view of our video, every personal email I receive, every post that is shared literally lights me up inside. I don't think I've stopped smiling for weeks."
A Vessel for Social Change
Pence-Brown's interest in body image and the body positive movement is not new. She has been a "fat activist" for the past six years, and those ideas are integral in her writing and art, she said.
"I became shockingly aware at a young age at how politicized my body is and decided to use it as a vessel for social change and my art," she said.
Pence-Brown was a double major in public communications and history, with a minor in women's studies, in UI's College of Letters, Arts and Social Sciences, graduating in 1997. She then earned a master's degree in art and architectural history from the University of St. Thomas in St. Paul, Minnesota. That educational background prepared her for her involvement in social movements.
"Being in the communications department at UI provided me with critical thinking skills about things like advertising, business writing, new media and popular culture," she said. "All my diverse experiences in life, from work to education, have actually played a large role in my body positive activism, surprising as it may seem, starting with my undergrad degrees in history and public relations. I'm a firm believer that we cannot move forward in life as an active participant in social change unless we understand our past."
The inspiration for her project came from a group known as The Liberators International, which featured a thin woman standing in London's Picadilly Circus in her underwear, asking people to draw hearts on her body in support of self-acceptance. It inspired Pence-Brown, who two years ago began a Facebook group known as the Boise Rad Fat Collective.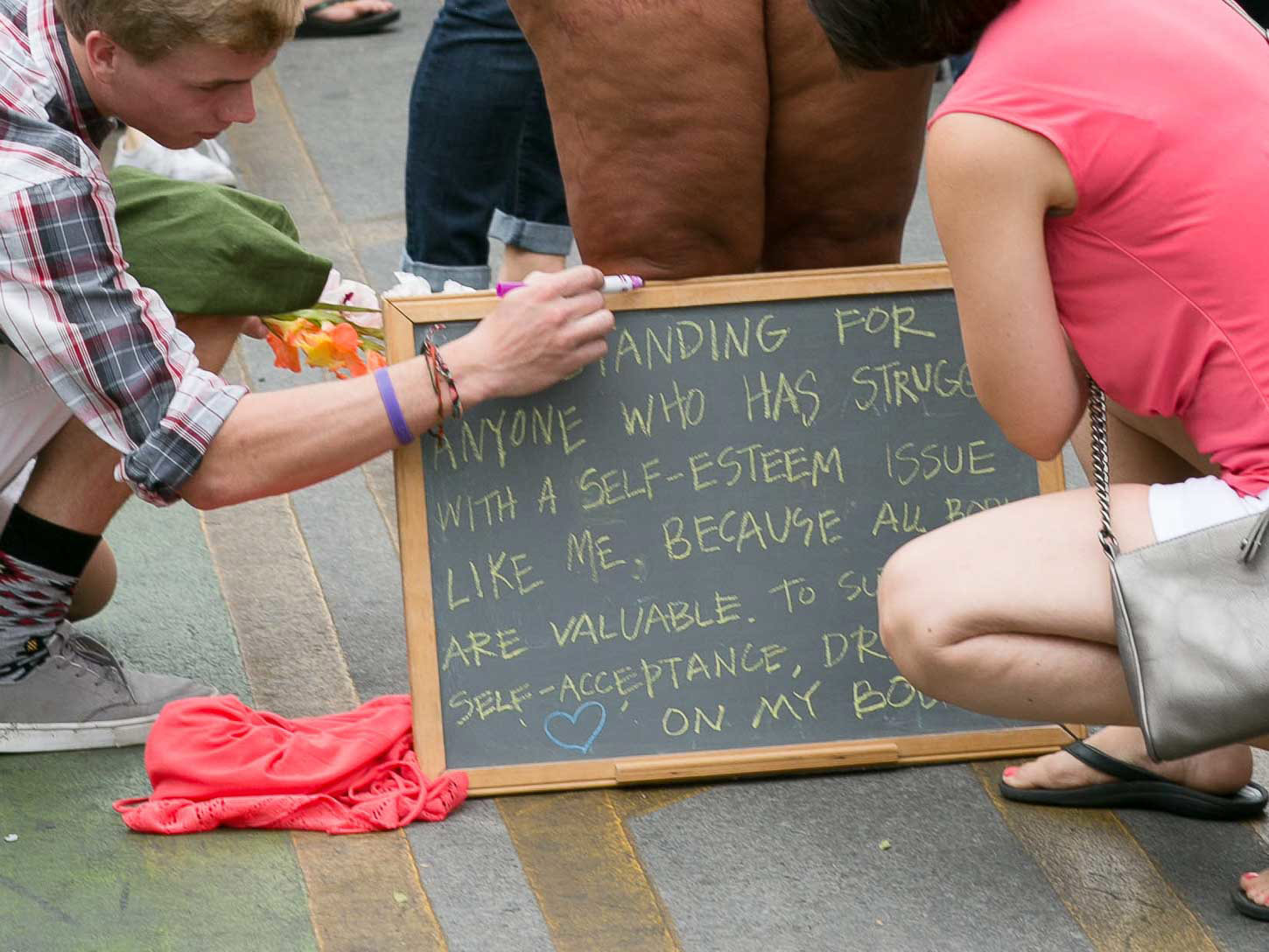 "We all agreed it was a powerful performance art piece, and discourse ensued," Pence-Brown wrote on her blog, Doin' It All, Idaho Style. "How would it be received if the woman had been less socially acceptable in appearance, like, fat? And, say, a mom who's nearly 40-years-old? And in a place that was more conservative and less progressive than London like, say, Boise, Idaho?"
And thus, Pence-Brown found herself standing in one the Idaho capital city's busiest places on a Saturday afternoon, asking people to accept her.
And they did.
The video of Pence-Brown's demonstration, shot by friend and fellow artist Melanie Flitton Folwell, shows passers-by — men and women, young and old alike — stopping to read Pence-Brown's sign, grab a marker, draw a heart, write a word, even give her a hug or whisper encouragement.
"I was not expecting people to write words on my body. I asked them only to draw hearts, and they immediately went rogue. I also did not expect them to talk to me or hug me, but they often grabbed my hand and whispered their stories of suffering and strength," she said.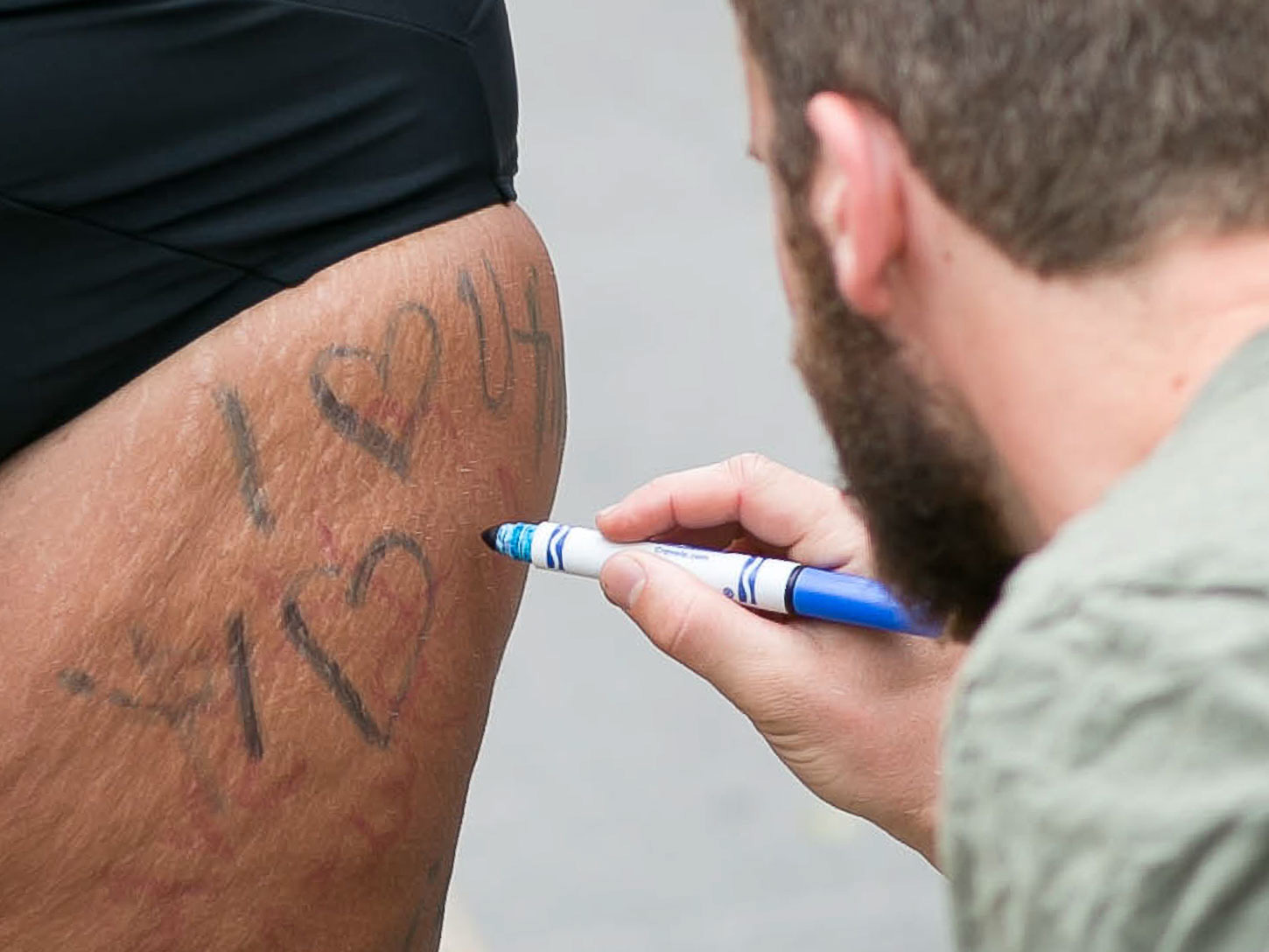 Loving Ourselves First
A mother of two girls and a boy, Pence-Brown hopes she is able to be a good role model for her children, as well as be a part of a growing movement to change the dialogue around body image.
"Like many women, I struggled with self-esteem issues from a young age, especially regarding my weight, but have come to be at peace with my body as it is. I'm hoping my activism will help others get to the same place," she said.
"We have a saying in our house: that all bodies are good bodies. Children are naturally open to talking about differences they see in people, and I think being able to thoughtfully explore and guide those conversations as a parent is crucial. Additionally, it's so important to be the example you are trying to teach. I want them to see me living out loud — being unapologetic about being true to myself and sharing that kindness to others.
"After all, we can only truly love one another if we love ourselves first."