Justin Kauflin
Award-winning jazz pianist, Justin Kauflin began his musical journey at age 4 with Suzuki violin (Suzanne Schreck), adding piano a few years later with Virginia Koun. By age 6, he was performing in concerts, nursing homes and weddings, eventually becoming concertmaster for several orchestras.
However, it was during this time that he also endured numerous trials, particularly losing total vision from exudative retinopathy.
He adjusted by learning 5 grades of Braille, cane mobility and, after a decade of classical violin and piano, switched to jazz piano at the Governor's School for Performing Arts. He studied with Liz Barnes, Woody Beckner, Chris Brydge, Jeff Smith, Jae Sinnett and ODU jazz professor, John Toomey; he attended the Vail Jazz Workshop, Betty Carter's Jazz Ahead Residency, and received top honors in jazz festivals across the U.S. He began performing jazz professionally at age 15, most notably with the Jae Sinnett Trio.
In 2004, Justin graduated at the top of his class at Salem High School alongside his sighted peers, and valedictorian at the Governor's School, receiving a Presidential scholarship to attend William Paterson University in New Jersey. At WPU, he was taken under the wings of legendary trumpeter, Clark Terry and performed in the Clark Terry Ensemble. He also had the tremendous privilege of learning from his hero, the late Mulgrew Miller, as well as Harold Mabern and the late James Williams. While attending William Paterson, he accepted any opportunity to sit in, and/or perform with his trio, in New York City.
In 2008, Justin graduated summa cum laude with an Honor's degree in Music, moved to NYC and, at age 23 produced, led, composed and performed on his first CD Introducing Justin Kauflin. His personnel included high school buddy Billy Williams, Phil Kuehn, Etan Haziza and Tim Green.
While in NYC, he was hit with the realization that "visionless independent mobility" is painstakingly slow at best and life-threatening at worst. This led him to The Seeing Eye in Morristown, NJ where he was matched with an amazing black lab named 'Candy', his service dog for three years in NY before returning to Virginia.
From 2011, the Justin Kauflin Trio headlined regularly at Havana Nights Jazz Club in Virginia Beach, where he also served as House Pianist. He performed around the country with his own trio or with the Jae Sinnett Trio, won the VSA International Young Soloist Award; was voted "Jazz Artist of the Year" in VEER Magazine, and selected as semifinalist in the Thelonious Monk International Jazz Piano Competition where it was noted:
"Among the few exceptions was Justin Kauflin, whose soloing had more shape, heft and narrative rigor than most of his peers."
Simultaneously during this time, Justin's relationship with mentor Clark Terry was chronicled by Absolute Clay Productions' Al Hicks and Adam Hart. Five years in the making, the resultant documentary, Keep On Keepin' On, won both Heineken Audience and Best New Director Awards at Tribeca Film Festival and released in theaters through RADIUS-TWC. Justin and Dave Grusin are credited for its filmscore. Keep On Keepin' On was Oscar Shortlisted for best documentary (2015 Academy Awards).
Justin was subsequently signed by legendary producer and music icon, Quincy Jones for management, and in 2013 and 2014, was part of Quincy Jones' World Tours which traveled to Montreux, Switzerland; Vienne, France; Seoul, Korea; Tokyo and HIroshima, Japan.
Throughout 2014, in addition to Keep On Keepin' On screening performances throughout the USA, Justin worked with Quincy Jones on his second full-length CD and debut album for Jazz Village, DEDICATION. The CD consists of 12 original compositions, 9 of which are dedications to mentors, friends & family, with a 3-part suite reflecting his faith. It was released January 13, 2015 and debuted at #6 on CMJ Jazz chart, #10 on Billboard's Traditional Jazz Chart, hit #1 on JazzWeek's chart, remaining in the top 10 for 9 straight weeks.
Justin's Trio, with Billy Williams & Chris Smith, are fresh off their 2015 Summer European and USA DEDICATION Tours and currently on their Autumn European tour.
Between and during the tours, Justin is working on new ideas and compositions with the aim of releasing a third album in 2016.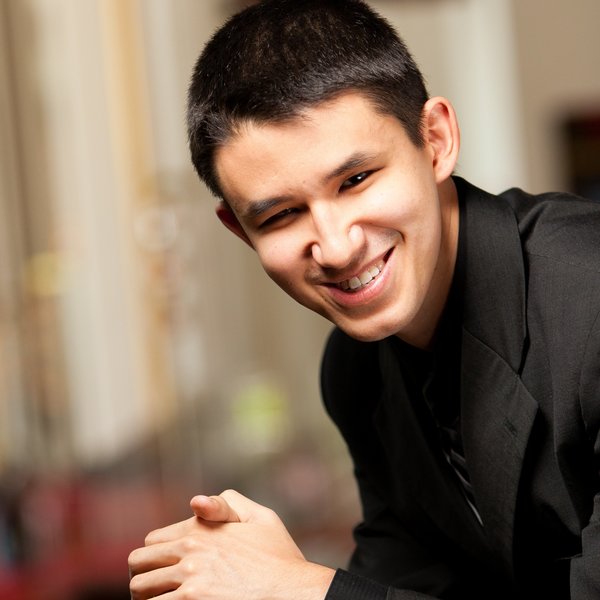 Connect with Justin Kauflin
---