Ignacio Berroa
Ignacio Berroa has been recognized by many as one of the greatest drummers of our times. His numerous contributions to the American music scene have earned him a place among a selected group of artists known to have set new musical trends for the 20th century.
Jazz Legend Dizzy Gillespie best defined Berroa as: "… the only Latin drummer in the world in the history of American music that intimately knows both worlds: his native Afro Cuban music as well as jazz…"
Highly respected among his peers, Berroa 's musicianship and versatility has enabled him to build a successful career by gaining the recognition of some of the most important artists in the business.
Berroa was born in Havana Cuba on July 8 1953. He began his musical education at age 11 at the National School of Arts and subsequently at Havana's National Conservatory, beginning his professional career in 1970. By 1975 Berroa had become Cuba's most sought after drummer. He left Cuba during the Mariel Boatlift, then moved to New York in June 1980 were he started working with musicians such as Chico O'Farrill and Mario Bauza who recommended him to Dizzy Gillespie. In August 1981 Dizzy Gillespie invited Berroa to join his quartet.
Berroa also took part also of all important bands Gillespie assembled during that decade such as: The Dizzy Gillespie 70th Anniversary Big Band, The Dizzy Gillespie All Stars Big Band and the Grammy Award winner, United Nation Orchestra. This relation lasted until Dizzy's death.
As an author he made his mark with the release of the instructional video: "Mastering the Art of Afro – Cuban Drumming under Warner Bros Publications and two books: "Groovin' in Clave" & "A New Way of Groovin'" under PlayinTime productions.
His first album as a leader, "Codes", released under Blue Note Records, was nominated for a Grammy in 2007. "Codes" also won a Danish Music Award in 2007 as best International Jazz Album. He was honored by inclusion in the 2011 Modern Drummer Magazine and Blue Note Records Mp3 entitled "Jazz Drumming Legends". Berroa received a Lifetime Achievement Award from The Montreal Drum Festival in 2011.
Berroa has recorded and played with musicians of the stature of: McCoy Tyner, Chick Corea, Wynton Marsalis, Freddie Hubbard, Clark Terry, Jackie McLean, Jimmy Heath, James Moody, Slide Hampton, Michael Brecker, Joe Lovano, Milt Jackson, Jaco Pastorius, Ron Carter, Charlie Haden, Tito Puente, Lalo Schifrin, Gonzalo Rubalcaba, David Sanchez, Danilo Perez, Chico Bouarque, Ivan Lins, Joao Bosco, Lenny Andrade, Carniege Hall Big Band, Lincoln Center Orchestra, WDR Big Band to name a few. Some of this artist have set new musical trends in jazz, being associated with them make Berroa part of jazz history.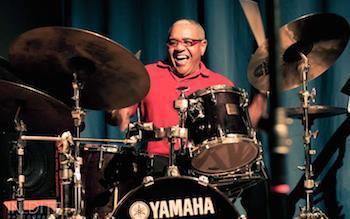 Connect with Ignacio Berroa
---