Book Explores Wayne's Influence on Global Culture
When most Americans think of John Wayne, they tend to conjure an image of the Wild West and cowboys in the 1950s. Russell Meeuf sees Wayne in a different light, as a man who symbolized the idea of international masculinity. His book, John Wayne's World: Transnational Masculinity in the Fifties, discusses the influence of Wayne's movies overseas.
An assistant professor in the School of Journalism and Mass Media, Meuff teaches Media Writing, Media and Culture, and Crime and the Media. He also teaches an integrated seminar about film for first-year UI students.
Meeuf grew up in the Boise area and received his doctorate from the University of Oregon. He was an associate professor and director of film studies at the State University of New York-Brockport, near Rochester. When his wife, a sociologist, was offered a position at the University of Idaho, they moved back to Idaho.
Introduced to Wayne's movies when he watched The Searchers, it wasn't until he found an obscure paragraph in an old book that called John Wayne the most popular movie star in Japan in the 1950s that his interest was piqued. Meeuf pursued this area of study starting in 2006 for his Ph.D. dissertation, which was a beginning point for his book.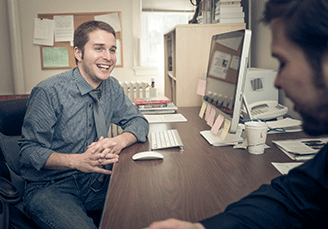 "John Wayne's masculinity appealed across global markets, even in Japan," Meeuf said. "I talk about the classic westerns, but I try to talk about them in a global context."
Meeuf examines the 1958 film The Barbarian and the Geisha in which Wayne, one of the only American actors, played the role of a U.S. diplomat.
"It was a commercial flop, but it makes for an interesting look at international production and how the film manages its tendencies to be respectful of Japanese culture but still tell a narrative about U.S. and Japanese relationships," Meeuf said.
John Wayne's World, published in 2013 by the University of Texas Press, contains chapters that discuss Wayne's movies in the U.S., including movies that portray the U.S.'s fight against Communism. Despite movies like Big Jim McLain and Jet Pilot, Wayne was still a popular actor overseas.
"How does John Wayne's masculinity become so globally popular? What is it about that type of masculinity that's not necessarily inherently American but is a masculinity that people around the world are finding resonant?" Meeuf asks. "And what can that tell us about Hollywood, the U.S. and its vision of globalization?"
While the book is aimed toward an academic audience, Meeuf hopes that people of all demographics will enjoy his book, including older John Wayne fans.
"I hope that people will come to my book with an open mind because my question isn't just, 'Is John Wayne good or bad?' but to historicize him … in a way that suggests an interesting set of contexts to understand him," Meeuf said.
The book has received favorable reviews in film-studies journals and websites. Writing for Senses of Cinema, Hannah Graves called John Wayne's World "astute and sharply written" and "an important revival of critical approaches to John Wayne and a useful addition to film scholarship that seeks to consider Hollywood's importance beyond North America." Clayton Dillard of Slant magazine described it as "an essential read for anyone looking to understand the undeniable complexities that defined John Wayne in the United States, but especially abroad."