McClure Center Interns pursue academic and career goals while working at the Idaho State Capitol
The goal for many students is to find a position after graduation that will help them make a name for themselves in their field. Some, however, get their chance early.
In 2014, at a meeting between area legislators and university leadership, Representative Cindy Agidius and others indicated that internships were on the table.
Provost Katherine Aiken moved quickly.
"At UI we want to provide internships wherever possible and this seemed like a good opportunity. I thought the McClure Center might be a place to facilitate this quickly and it turned out terrific, I think," Aiken explained.
The James A. and Louise McClure Center for Public Policy Research at the University of Idaho, named after a prominent US Senator, was founded to promote interdisciplinary cooperation and research in government. In the spirit of this mission, two students from different departments were approached for the task: Josh Weistaner, a junior majoring in political science, and Chloe Rambo, a senior in journalism who will be graduating this May.
Weistaner saw it as a professional opportunity. "I thought that working for the Idaho Legislature would be a great, hands-on opportunity to learn how government truly works," he said.
Rambo agreed, but also had more personal reasons: "I'm a sucker for any opportunity for adventure and travel!"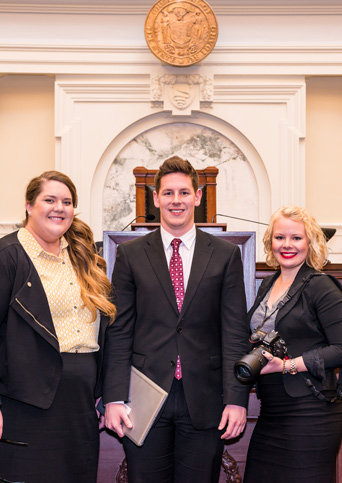 The internships are all that and more, designed to match academic and career goals for each student. The first day: walking up the stairs of the Capitol building, and realizing such an impressive and historic structure would be their workplace for the next four months.
"I was definitely jazzed," said Rambo, "and am still jazzed every time I walk through those doors."
She functions as a full-fledged Capitol correspondent, attending daily meetings and hearings and collecting as much information as she can to pass along to the editors of the Argonaut. She tweets, takes photos, writes stories for the paper, and records audio bites for KUOI.
"It's quite an adventure getting to know the Capitol when newsworthy moments are happening what feels like every 10 minutes," she said. (Read a recent Argonaut article written by Chloe)
Weistaner primarily does research for legislators that need information on certain bills, but has also branched out into a broad variety of other tasks. "Anything," he reports, "from going on a tour of state prison, to working with lobbyists discussing ideas to strengthen bills, to creating power points for testimonies."
While their specific tasks may differ, the overall experience remains the same: awe-inspiring, eye-opening, and worthy of passing on to others. When asked if the opportunity had enhanced their respective educations, both Rambo and Weistaner responded with a resounding "yes."
"I went into this thinking I knew so much about how government works," said Weistaner. "Turns out I did not even know half of it. There are so many things often overlooked by everyday citizens that are actually major issues."
Rambo agrees. "This experience has taught me that journalism is so much more than classwork and lectures—successful journalists are constantly practicing their craft and developing their skills."
What's next for these interns? After graduation, Rambo plans to travel before finding a position with a non-profit, preferably one that allows more traveling. "I'd like to bring together my passions for communications, writing and finding and emphasizing the positives and individual aspects of communities," she said.
Weistaner, for his part, plans to become a lawyer. After his experience with the legislature, "I am also now considering running for office at some point later on down the road."
"I have developed great relationships with a variety of legislators," he added. "Not to mention the half a shoebox full of business cards I have received from people outside the capital building."
Sounds like a promising place to start!
Article by Paige Orwin
---
NOTE: Chloe Rambo is the 2014 Plastino Graves Fellow. This fellowship is generously sponsored by Diane Plastino Graves and Ron Graves, and is offered in collaboration with the School of Journalism and Mass Media.
Follow Chloe Rambo on Twitter.
---
The James A. and Louise McClure Center for Public Policy Research is named for an iconic United States Senator and his esteemed wife, Louise. Together, they championed the causes of Idaho, from Moscow to Boise to Washington, for four decades. Senator McClure earned the respect of his colleagues for his engagement in thoughtful civil dialogue, his pursuit and promotion of bi-partisan collaboration, and his long commitment to sound public policy.